TROPICANA FANS PICTURES & MEMORIES!!
---
This page will serve as a repository for all pictures and memorabilia Trop Fans want to make public. Pictures, newspaper clips, etc. All material will be welcomed!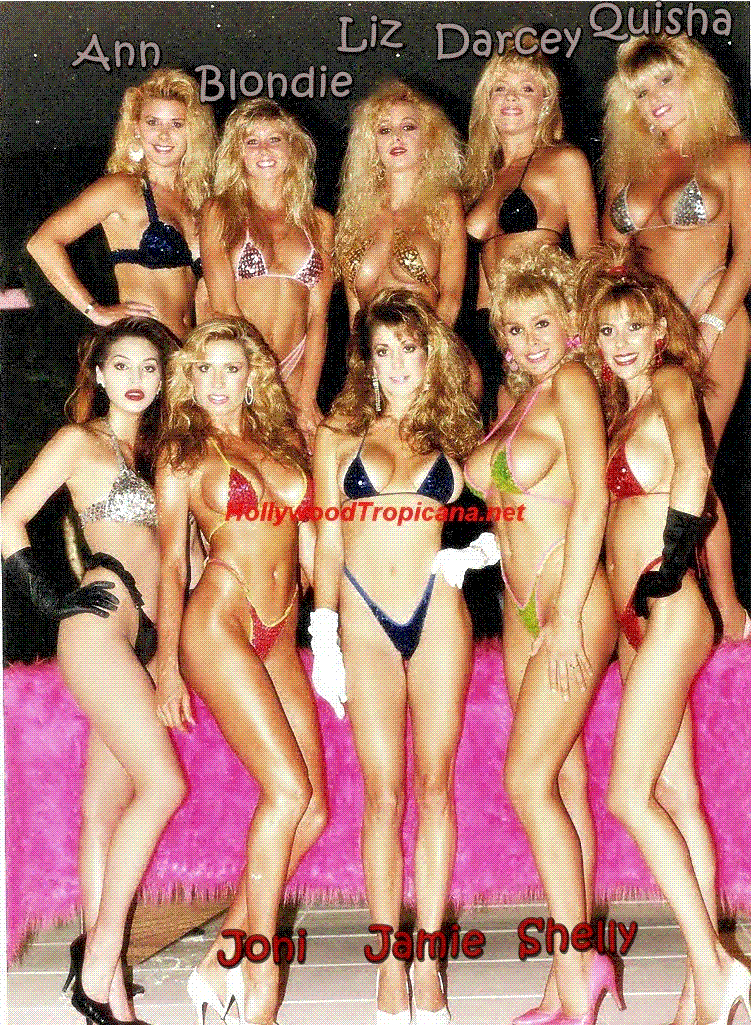 Our friend Bill King, who's currently working on a book about Mud Wrestling and have been gathering information about Tropicana and the Girls, sent us the following picture and article clips that appeared on Mayfair magazine back in 1982. He had Quisha, one of the most gorgeous dancers at Trop ever, write the name of each girl in this picture. She correctly identified them all but two. What's the name of those two girls Quisha missed? Hmm, let's see if you guys remember! Bill has been actively traveling to Los Angeles to interview as many Tropicana Girls as possible. He wants to get the best recollection of those days from the girls that made it all happen. We encourage all Trop Girls to get in touch with Bill at clueso07@yahoo.com. Write Mud wrestling on the subject line.

It would be nice also, to get memories from those who were an important part of the Show, such as the MCs and the Referees, who worked closely with the girls and shared their nightly routine year after year.

For the journalist is his first time at Tropicana and he's very intrigued about the Show. He's able to gives a a very discriptive recollection of this new kind of entertainment that is becoming a sensation in America. In the beginning, the Show at Tropicana was held on the Second floor. The First floor was a Disco, but gradually Mud and Oil Wrestling gained popularity and most guys went straight up after paying admission, so it was just a matter of time for the Show to take over the whole place and become the main attraction.

So far on this journey back in time, to remember Trop, no mention to Management has been done. In all fairness, Paul Piccard and Staff were a key an vital element to keep Trop working 24/7 as smooth and professionally as possible. Any Business Grad could have taken an enlightening lesson from Paul on how to run, and successfully, such a vibrant and dynamic business.
Trop action in full swing captured in these pictures!!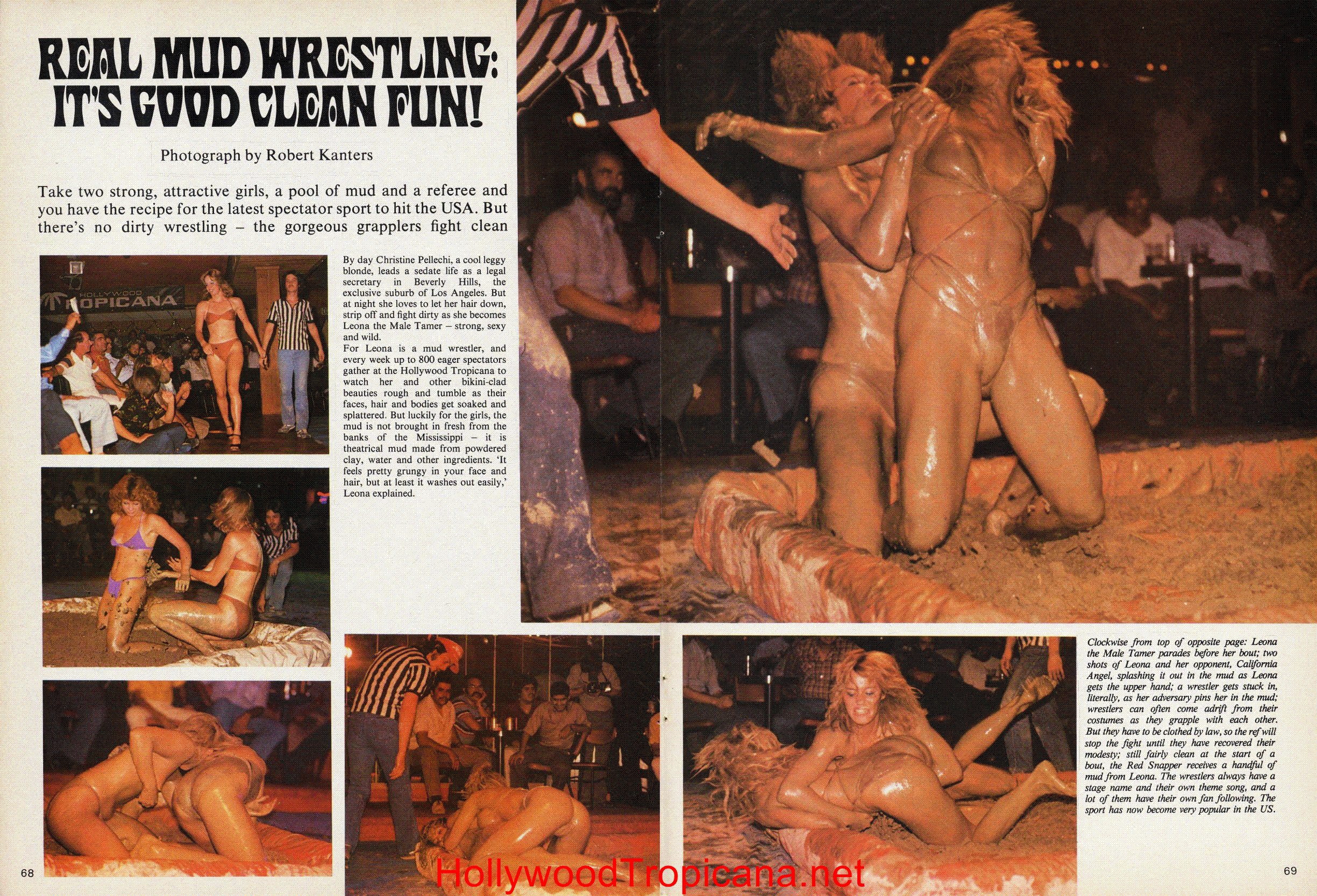 Here it is Guys! Just close your eyes, listen to the blasting music and recreate what Trop was like, especially those that never set foot in the Club! Here is what the article reads.."Take two strong, attractive girls, a pool of mud, and a referee and you have the recipe for the latest spectator sport to hit the USA. There's no dirty wrestling - the gorgeous grapplers fight clean! By day, Christine Pellechi is a legal secretary in Beverly Hills. But at night, she becomes Leona, the Male Tamer - strong, sexy and wild. For Leona is a mud wrestler, and every week up to 800 eager spectators gather at the Hollywood Tropicana to watch her and other bikini-clad beauties fight in the mud." Clockwise from top, Leona the Male Tamer, parades before her bout, two shots of Leona and her opponent, California Angel, splashing out in the mud as Leona gets the upper hand.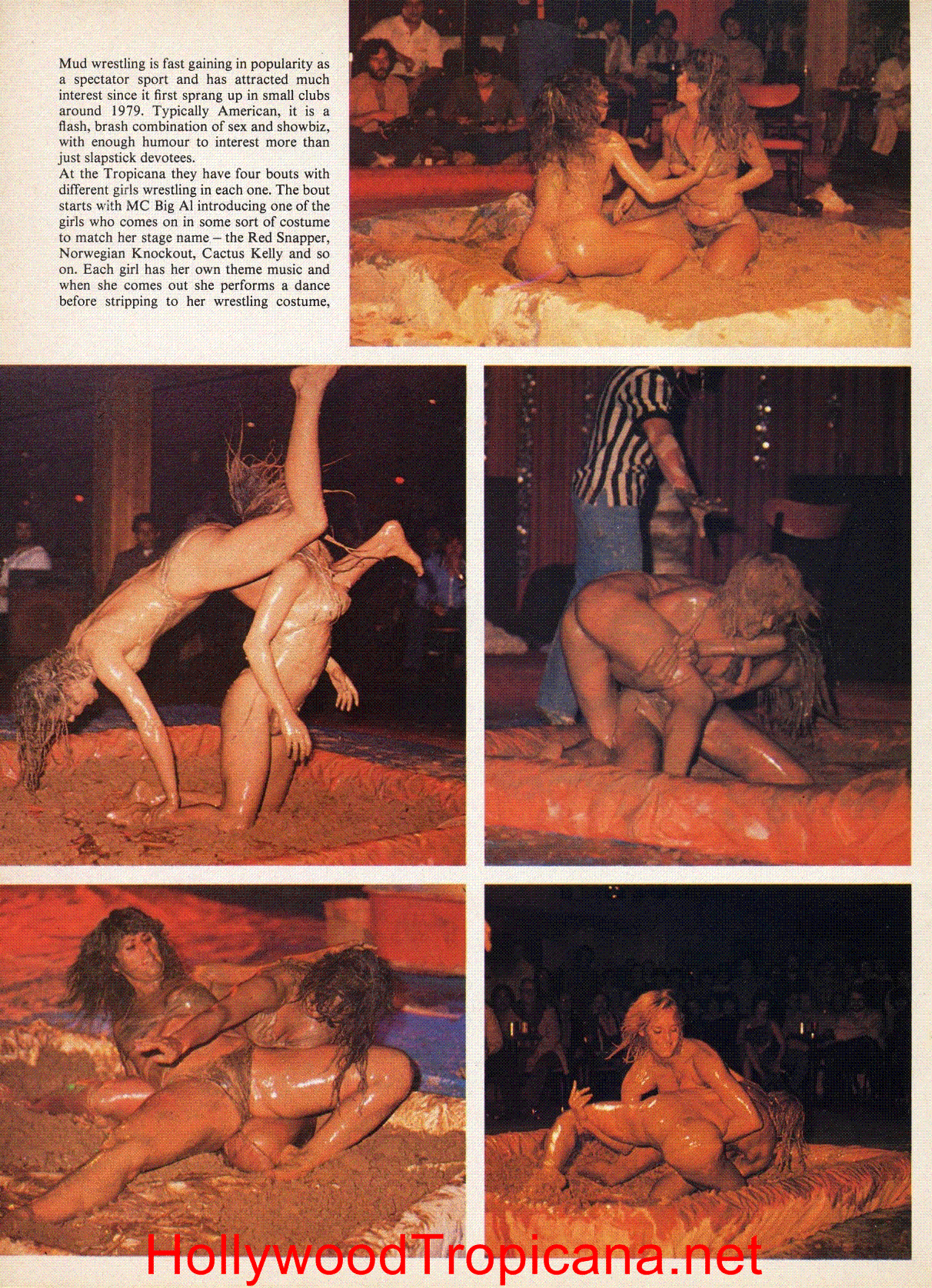 Mud Wrestling at its best!!
Although the fights were supposed to be fun, girls got really heated up and grabbed each other from all angles producing some spectacular contorsions as you can see in this picture! The journalist wrote..." Mud Wrestling is a flash, brash combination of sex and showbiz with enough humour to interest more than just slapstick devotees. At the Tropicana they have four bouts with different girls wrestling in each one. The bout starts with the MC Big Al, introducing one of the girls who comes on in some sort of custome to match her stage name, the Red Snapper, the Norwegian Knockout, Cactus Kelly and so on. Each girl has her own theme music and when she comes out she performs a dance before stripping to her wrestling custome." Cactus Kelly! What a fantastic name! Like you want this girl to seat on you, right? Outch!!
And the winner takes it all!!


This is the final picture and the journalist, wrote the following, ..."In her bikini the girl kisses members of the audience for tips. Then her adversary comes out and the process is repeated. At the start of the fight, the two opponents kneel in the mud facing each other. The bout itself lasts for three rounds of 90 seconds each and the girls have to try to pin each other. At the end of the bout the audience decide who has won by the volume of their applause, and two willing volunteers wash down the wrestlers with buckets of water. The wrestlers are paid $ 50 by the Club and can make up to $ 80 in tips. During the evening's show there is one special bout - the auction. The MC will start talking about one particular girl and give her a big bild up. The the bidding starts, the highest bidder having the privilege of wrestling the girl himself. Bidding can go up to $ 100 and the girl keeps the money herself. The lucky winner of the action changes into swimming trunks and goes three rounds with the girl."
Patrons Johnny and Kenny paying up Referee Carlos to get in the mud with beautiful Leslie, circa 1987!!


Do you guys remember Leslie? Well, She sent us this picture a few weeks ago and we're happy to make it available to all Trop Fans. Here she is! She worked at Trop since the early days and had a huge follow up. Being tall, pretty and classy she was one of the favorite girls to wrestle or get a kiss from. She personified the image of the Tropicana Girl with her looks and style and a very professional attitude. Johnny (smoking) sent us this pic dating back to 1987. Him, Kenny and friends won the bidding for $300 and they're in the process of giving the money to Referee Carlos.
"Uncle Jimmy" sent us the following pictures from Miami, Fl!!


Famous Trop regular back in the 80s, "Uncle Jimmy", currently living in Miami, Fl sent us these two pictures. He doesn't say how he got them, but we can't thank him enough for these images! Feast your eyes guys! Here's another couple of shots during a photo session, most likely right before opening. The photographer, that I know for sure, was the famous Hollywood camera wizard "Larry Love", whose lenses could capture the exuberance and beauty of the Trop Girls like no one else. "Larry Love" was the official photographer and also in charge of producing all Tropicana merchandising and marketing material such as Postcards, Posters, T-shirts, etc.
WOULDN'T YOU BE AN ASS KISSER TOO???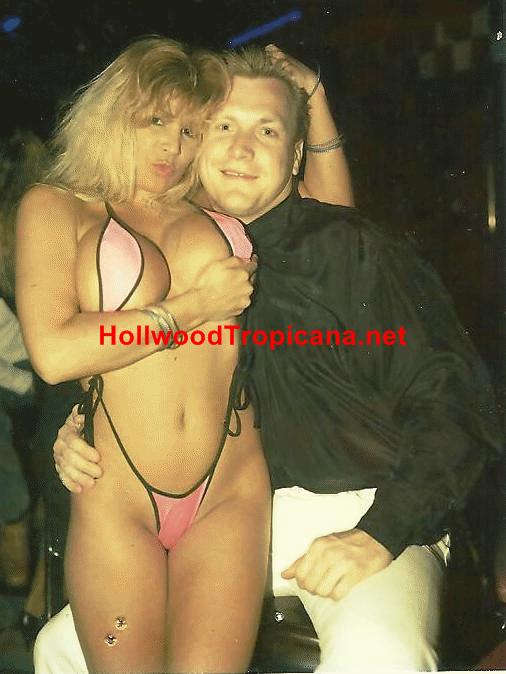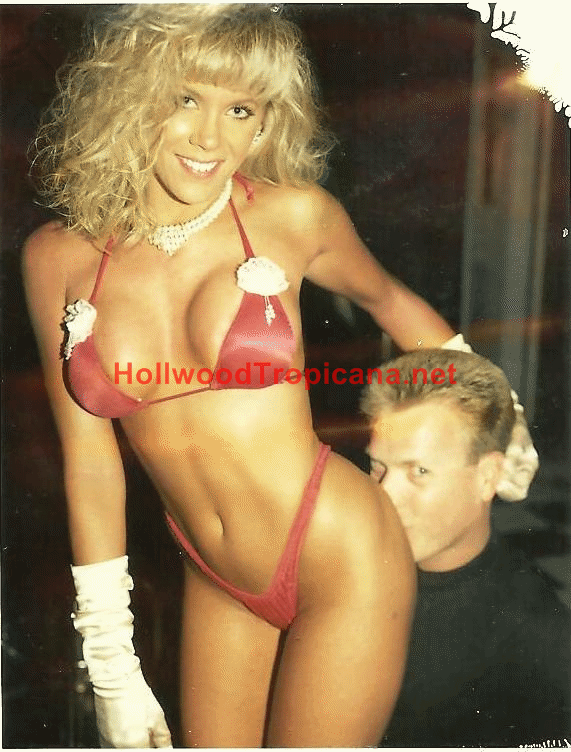 "OG" from Santa Monica, Ca sent us the following pictures. True collector's items! Look at this guy kissing Darcey's ass (left). What a treat!! Darcey was not just pretty, she was really nice and friendly and when approached by "OG" to take this picture she was happy to do it. According to "OG", him and and his buddy Danny took the same picture that night. We hope Danny will send us his to place them side by side! Darcey had a Legion of Fans that would have lined up all the way up to Hollywood Blvd to have this picture taken!! On the right, "OG" is in good hands too! Who is that cute blonde? Animal Analie? According to "OG", one of the "Tanqueray & Tonic" Boys, from Sta Monica Blvd & 11th St. these images date back to one wild Saturday night in 1989. They're a vivid document of what Tropicana was all about: Beautiful girls, lots of fun and a good time guaranteed for all!!
"OG" and friend Charlie Sheen!!
Tropicana was a place for celebrities from all areas. It was always easy to run into Rock Stars, Sport figures, Politicians, etc. Trop was magnet for all! Actors were not the exception. Our friend "OG" and close friend Charlie Sheen were often at Trop. Both of them would terrorize the Club chasing girls, mud wrestling and drinking. This unique picture was taken on Friday December 20th, 1991. I did not want to retouch it or fix it in any way. Father time did his damage to it, but it's living proof of what Tropicana was all about!!


The picture on the right was sent by Hazari, famous African Art Dealer in Los Angeles and Chicago. Hazari was another Trop regular that had an appetite for blondies! He owned a Mansion on Franklin Ave, Hollywood and also a big African Art Store on Melrose Avenue.

Tropicana Staff Making its Presence: Tony, Tropicana's Most Famous Bartender!!


I'm sure most of the regulars at Trop will instantly recognize Tony The Bartender, a familiar face at Hollywood Tropicana for years. He sent us this picture dating back to November, 1992.
He looks like a "Pimp" or "Padrote" in Mexican slang, surrounded by those gorgeous Tropicana Girls! Tony established himself as one of the main Bartenders at Tropicana.

Tony worked at Tropicana for a significant number of years under Paul Piccard and then after Paul's death, with the subsequent Management.
Tony took care of clients at the Bar and waitresses' orders with such an amazing fast pace especially during the busiest nights.

Always with a courteous and professional attitude he listened with empathy to all those who had a "few drinks too many" and wanted advice on politics, economics or relationships!!

We hope that Bartenders Lisa, Mary and Sam, will also send us pictures and comments about those times at Trop. Surely they have lots of stories and anecdotes to share with us.






80s Rockers Also Sending Trop Memorabilia!!


Heavy Metal and Tropicana are two ingredients that go together as good as Tanqueray and Tonic! We're happy to post this passes that Mike Schneider just sent us! Mike was part of the rock scene back In Los Angeles during the 80s, performing in several bands. Of course, he paid his respects to Trop Girls in more than one occasion. He carefully kept the passes we see on this picture. The top two tickets are from 1987 and 1990, the bottom tickets are from 1990 and 1991
Mike had a great idea back then, collect all flyers bands were passing out to promote their shows. With this material he's working on a very interesting project, a book that will compile those flyers and the memories they bring back. For sure it'll be some interesting material to read. The title of the book is "Flyers of the Sunset Strip" and the Twitter is @FoftheSS

Mike currently lives in Wisconsin and still playing and recording his music. He's a true metal warrior from the 80s.

We thank him for his contribution!!






Hollywood Tropicana 30 Year Reunion!!
Back on 2011 some of the Tropicana Girls, MCs, Referees and Management met at the famous "Raibow Bar & Grill" in Hollywood, California to celebrate 30 years since Tropicana was founded. It was nice to see old friends and co-workers after Tropicana closed it doors. Is not always easy for a group of people to keep an armonious relationship constantly and issues do happen, but father time can cure it all!! Everyone had a good time and had a story to tell or a funny situation to remember that made everybody laugh!
Of course Paul Piccard was remembered, and more than one tear shed, when his name was mentioned. God bless him!
Click on this link to watch the video posted on youtube by Miss Ruby Tuesday
Keep them coming guys!!


We hope Trop fans enjoy this new page, dedicated absolutely to all of you. Like Bill, Johnny, Jimmy in Miami, "OG" and Hazari, send us all you've got, pics, tickets, passes, etc. and we'll be happy to post it here.

This last picture was taken at Trop, of course by "Larry Love" during a photo session in 1989. Whatever happened to these girls? What became of them? Hopefully they will contact us and also send us material for this page. They were the main reason for Tropicana to succeed!!
---
Metal Darkness Productions